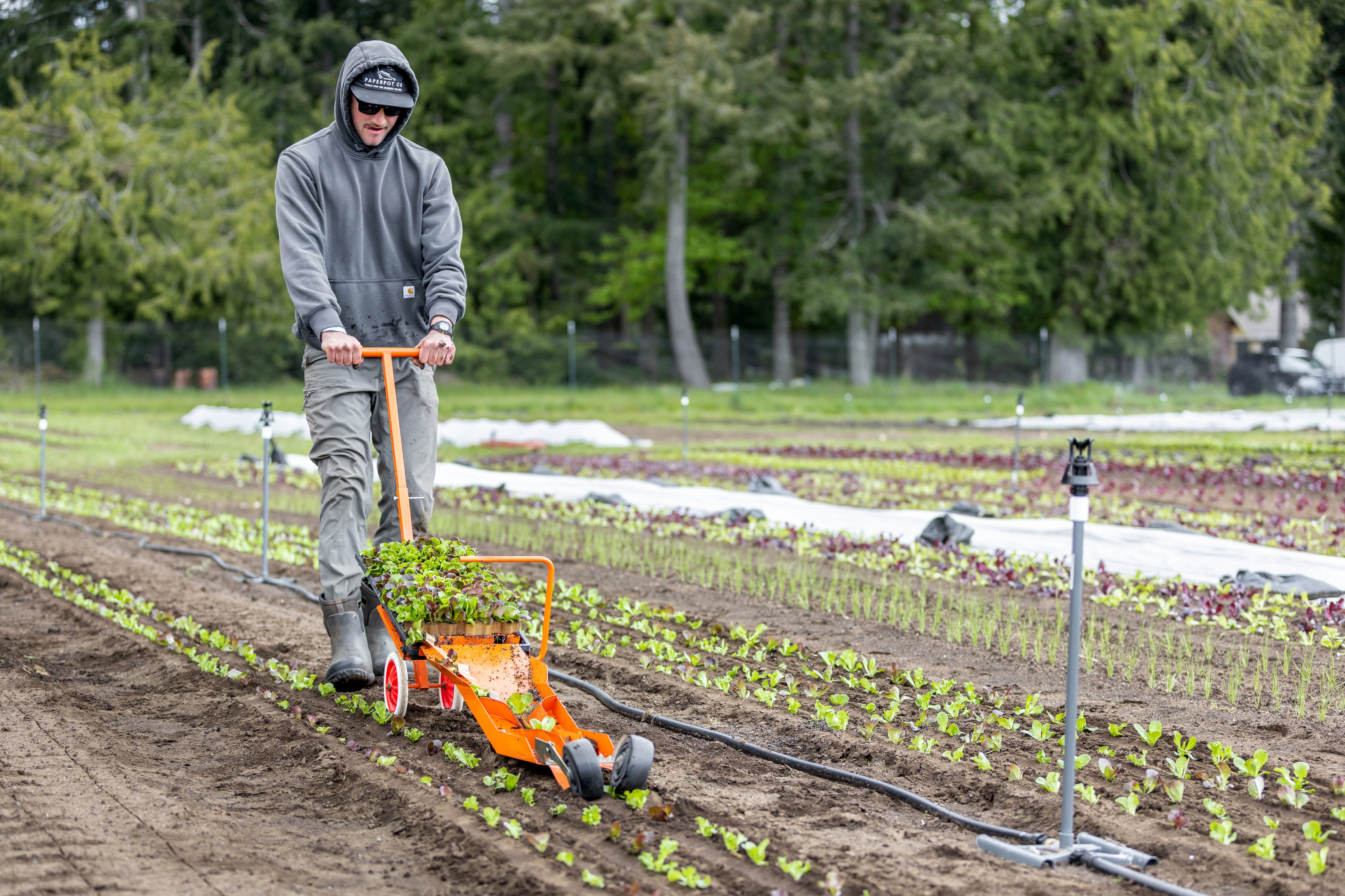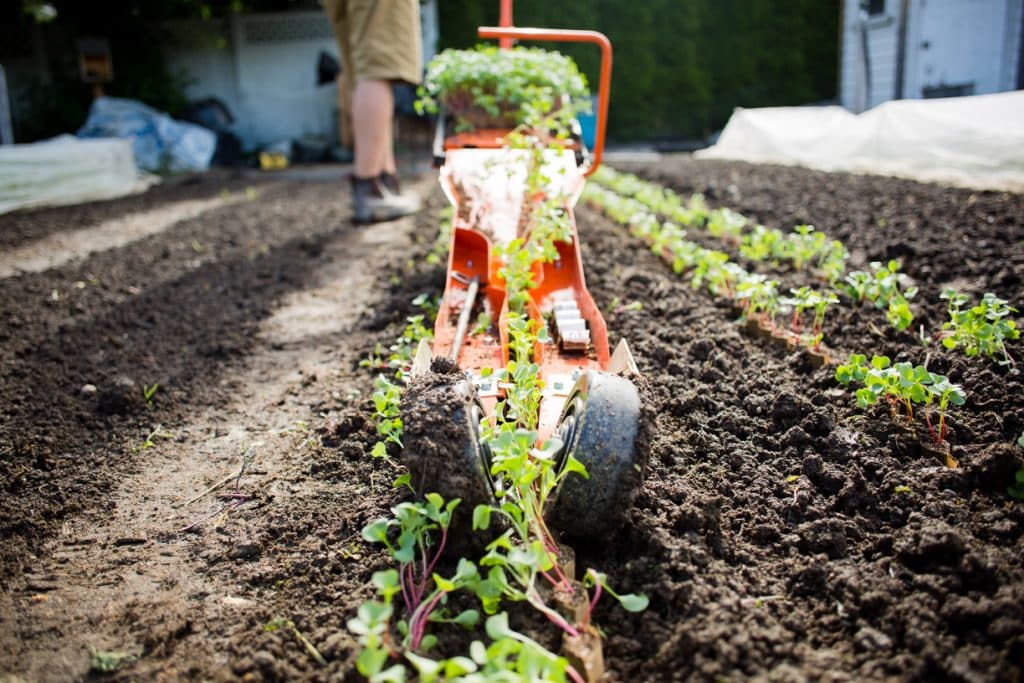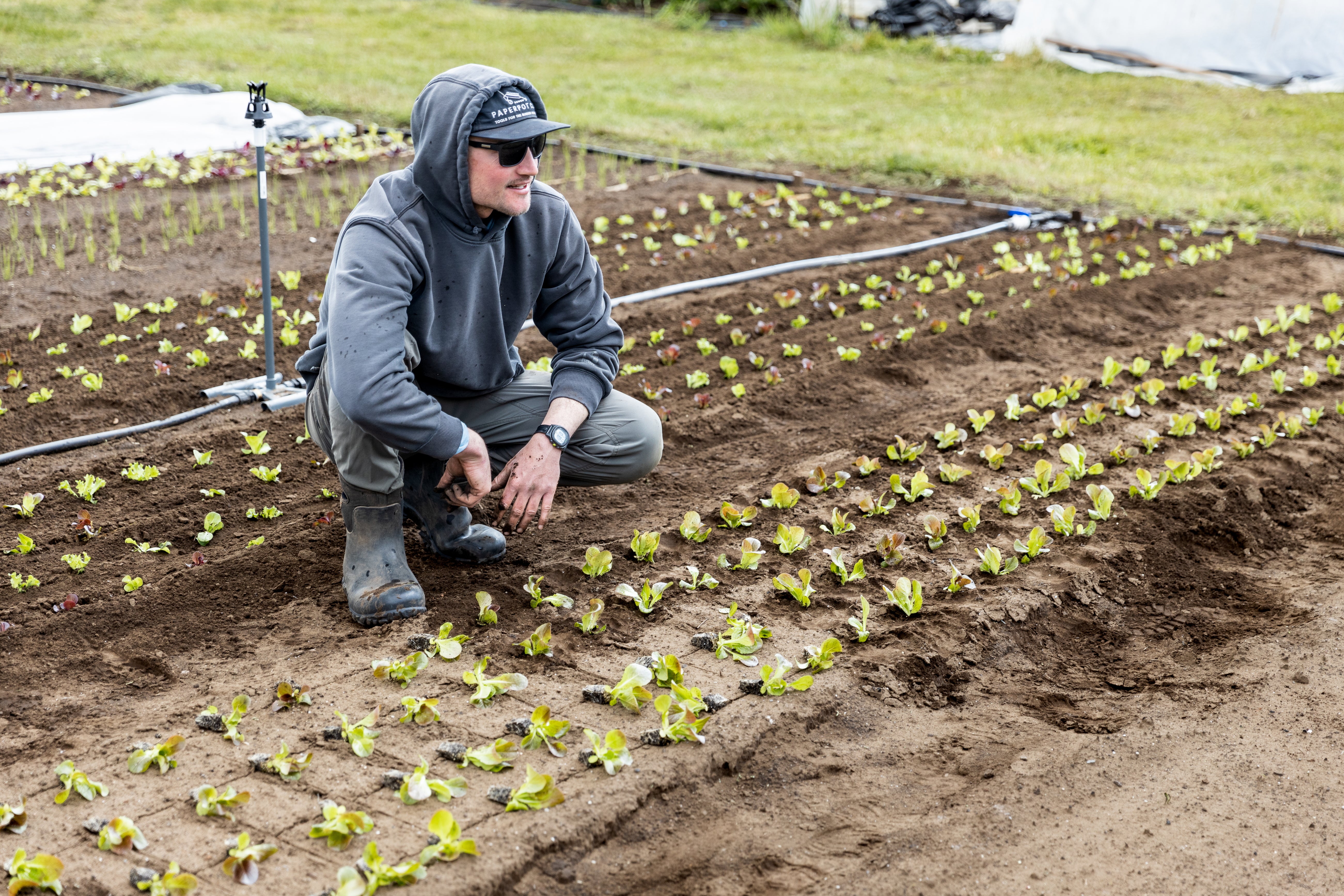 The Original Paperpot Transplanter
Regular price

Sale price

$700.00

Unit price

per
AT A GLANCE
Versatile - works with the most common crops
Make your job easier - transplant standing up
Save time - plant a 100-foot bed in minutes
Save money - reduce the amount you have to pay employees for transplanting
Increase success - get your crops into the field quicker, reducing transplant shock and crop losses
Leverage labor - less time spent transplanting means you and your staff will more time available to work on other tasks
Description
Tech Specs
Farmer Benefits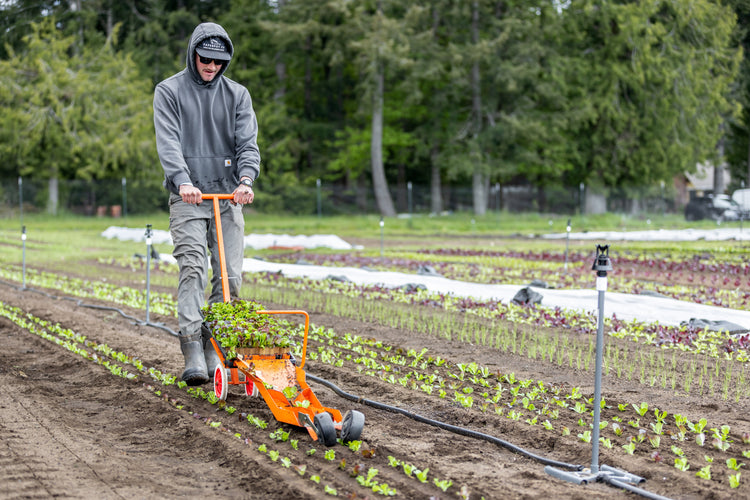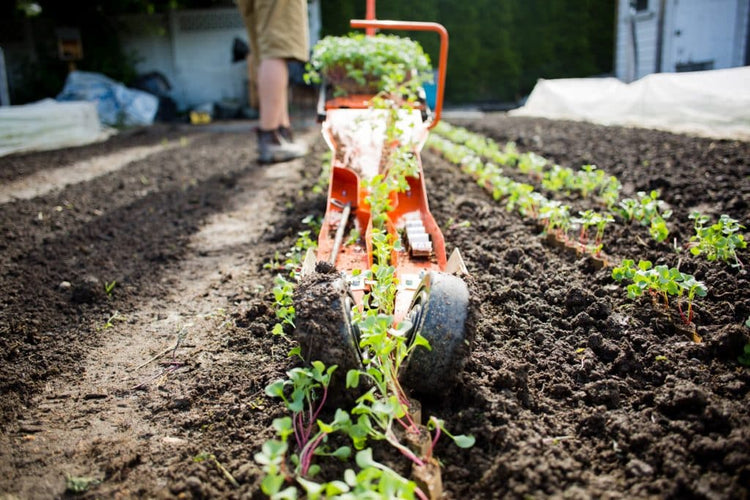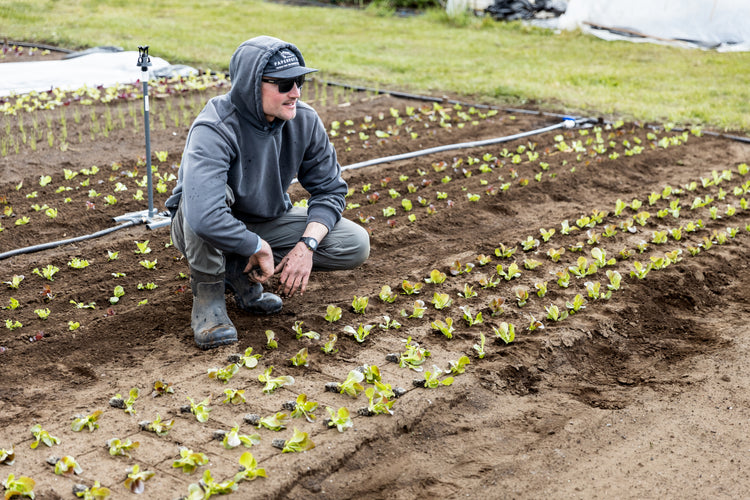 SAVE TIME AND LABOR WITH THE PAPERPOT TRANSPLANTER
DEEP DIVE
Get ready to do more work in a lot less time!
Get off your hands and knees and save your back with a Paperpot Co paperpot transplanter.  One person can transplant 264 vegetable seedlings in minutes with this easy-to-use tool!
Farmers credit this tool with "giving us an extra day off a week."
Using the transplanter is simple as paper chain pots are loaded onto the transplanter's deck and pulled out of the transplanter behind you as you pull the transplanter forward.  A build-in plow cuts a furrow into the soil to receive the paper chain pots while sweeps, and the rear wheels close the furrow around the transplants.
Immediately Make Your Farm More Efficient and Effective with the Paperpot Transplanter!
Transplant rows of seedlings in minutes instead of hours.  Think about what this time savings mean for your farm and your staff.
Think less...
Reduce the amount you have to pay employees for transplanting. Get your crops into the field quicker, reducing fatigue and transplant shock, thereby lessening crop losses. Less time spent transplanting means you and your staff will have more time to work on other tasks.
Purchasing the paper pot transplanter is like buying another employee - one you don't have to pay and who always works.
Save Your Back and Transplant Standing Upright!
Take the laborious task of transplanting crops and make that task much faster and less demanding on your body.  Instead of spending hours on your hands and knees or bending over a bed, you can transplant a row of seedlings in minutes simply by standing and pulling the transplanter. Over time that will save a lot of wear and tear on your back.
As one grower stated, "for my back, it's definitely worth it.  It's pricey, but so are monthly physical therapy appointments."
The Paperpot Transplanter is Not a Single Use Tool
It goes beyond just lettuce.
Paperpot Co.'s transplanting system is versatile.  Growers have used this tool to transplant lettuce, radishes, turnips, onions, peas, beans, herbs, and many more crops. The paperpot transplanter can be used for all paper chain pots, allowing you to space your vegetable seedlings at 2, 4, and 6" in row.
When assembled, the device is 12″ wide and 84″ long.  The height is adjustable from 32 to 44″, weighing around 30 lbs.
Note:
Soil structure is critical to the performance of this tool.  Wet, heavy clay soils may make the device more challenging to use.  The device works best in light soils with good tilth in the upper three inches.
In The Field
tag your gear #paperpotco
This has saved us so much time. It can be tricky to learn, you have to have a clean bed, not to wet, no rocks, roots etc, but once you get that right you can't plant a row in minutes instead of hours! Great investment
We love this tool! It has made transplanting so much easier and more affordable. Before we would spend hours transplanting and the paper pot can do the same in 30minutes. Only wish it did a better job covering back up, but we get after it and get it done rather quickly. It definitely took a learning curve, so don't be disappointed if you mess up. It just takes practice. Thanks for making this awesome tool!
I definitely had a love/hate relationship with this seeder the first few times i used it. Now that i have figured out how much moisture needs to be in my soil and how tilled it needs to be, this transplanter has saved me and my back. In our climate October is a huge month for getting all the transplants out in the feilds and i usually spend all month planting about 100 in a day. I did about 800 plants in 15 minutes. Awesome. I have successfully transplanted broccoli, cauliflower, cabbage, all and any greens, lettuce, onions, turnips, beets, carrots, herbs, and okra. If you can afford it just buy the whole kit at once. I left out the trays and seed spreader at first purchase, but have recently bought the trays(much easier) and the seed spreader will be my next purchase. If you want to take your growing to the next level, this is it.
There is no debate...this is hands down the best tool for small plot farming. It saves time and saves my body. Perfect spacing and straight lines makes for easy cultivation. Easy to assemble, easy to use.